RageWire® Mesh Partitions
Efficient and Versatile Space Separation Solution
RageWire® Mesh Partitions provide a dependable and adaptable solution for industrial and commercial environments. Engineered for efficiency and ease, the frameless wire partition panel system consists of only five components. The modular design allows for seamless installation and customization, whether you require secure enclosures or efficient space organization. With its reliability and flexibility, RageWire® Partitions offer a versatile solution to meet your needs.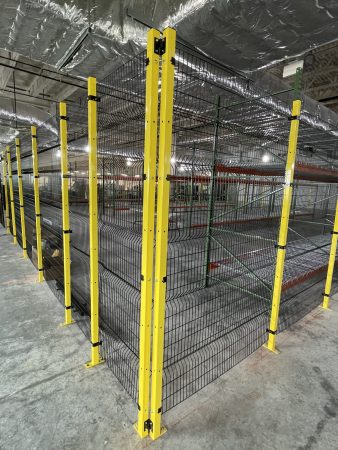 RageWire® Mesh Partition Features
RageWire® Mesh Partitions keep it simple with the entire product line consisting of one standard panel (5′ wide), with universal posts (6′, 7′, 8′ tall), one bracket, two door options, and electric interlock integration.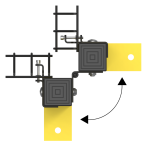 Post
Pivot posts allow for easy management of corners with 160° of rotation.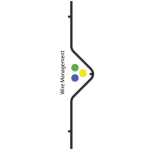 Panel
V-bend in mesh adds structural integrity and allows for wire management.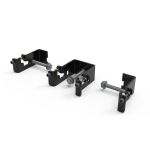 Bracket
Carriage bolt attaches bracket to post and machine screw secures mesh to bracket.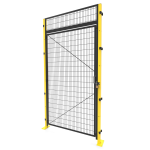 Door
Easy-install swing & slide doors come standard; BeastWire™ doors are available for specialized applications.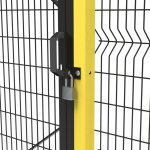 Lock
Standard doors come with pull handle and padlock hasp; Fortress Interlocks are available for added security.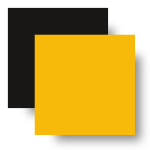 Finish
Standard powder coating finish features yellow posts with black panels.
RageWire® Mesh Partition Benefits
Experience the seamless and cost-effective solution for your partitioning needs with RageWire®. Our innovative approach ensures an intuitive and hassle-free installation process—simply plant a post and hang a panel. Explore the wide range of benefits and features that our RageWire® system has to offer below.
Strength and Rigidity
V-bend mesh panel design adds strength and rigidity to the system, along with a built-in, recessed cable management cavity
Easy Field Modifications
Unframed panels allow for easy field modifications
Quick Panel Lift-Out System
Saddle pocket brackets provide a quick panel lift-out system for machine access and fast panel reengagement
Easy Corner Management
The unique pivot post design allows for easy management of corners with 160° of rotation
No Disengage Upon Impact
All hardware comes secured to the bracket and will not disengage upon impact
4″ Sweep Space
4″ sweep space for easy cleaning access
Fortress Interlocks
Swing and slide doors incorporate with Fortress interlocks for a secure system
Ragewire® Mesh Partitions Resources & Downloads
RageWire® Mesh Partitions Videos
RageWire® Mesh Partition Applications
Ragewire® Mesh Partition Case Studies
Discover real-world success stories showcasing the effectiveness of RageWire® partitions in a range of industrial settings through our compelling case studies.
Overview Do you need a quality control area to keep damaged items secure while it is waiting on an inspection? Then you are not alone.
Read More »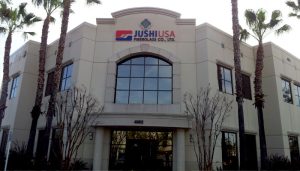 Overview Jushi, one of the largest fiberglass manufacturers in the world, recently opened an 800,000 sq. ft. plant in Columbia, South Carolina—likewise, one of the
Read More »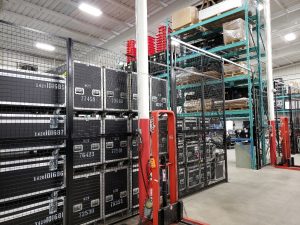 Overview Have you ever been to a concert or a theatre performance and were completely mesmerized by the light show? If you have, then Christie
Read More »
RageWire® Mesh Partition Blogs
Explore our collection of informative blogs covering various topics related to RageWire® partitions, offering valuable insights and tips for optimizing their use in industrial applications.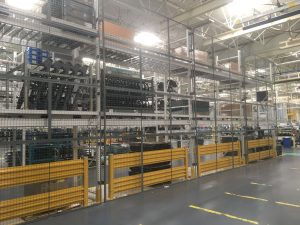 Machine guarding is necessary for any business that utilizes machinery with moving parts, such as manufacturing facilities, industrial plants, warehouses, construction sites, and any other
Read More »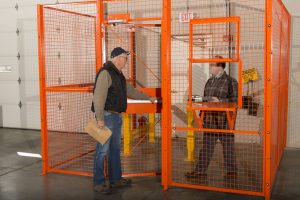 Machine guarding is an essential safety measure that helps protect workers from potential hazards associated with machinery and equipment. In industrial settings, choosing the right
Read More »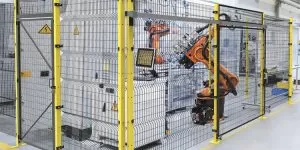 SpaceGuard Products knows the importance of machine guarding to businesses large and small. In this blog, we will explore the importance of machine guarding and
Read More »
Still not sure which partition system is right for you?