In today's ever-expanding world of telecommunication and cloud computing, the security of data centers and colocation facilities remains a paramount concern. Despite multiple layers of physical security measures, safeguarding servers, especially in shared spaces, remains essential. SpaceGuard Products recognizes these unique challenges and offers state-of-the-art solutions tailored to data center needs.
Data Center Cage Features
Subfloor Integration
Need to extend security to the subfloor? Our cage mesh partitions can be configured to stand alone or attach to the subfloor structure, providing versatile security options.
Universal Design
Installation is made easy with our universal design. Standard-sized parts, including various door and lock options, are readily available for quick shipment, ensuring minimal disruption to your operations.
Configurability
Our systems are designed for field reconfiguration or modification, allowing you to adapt to changing tenant requirements. Welded wire mesh, standard in all systems, not only provides an attractive appearance but also maximum security.
Custom Tailoring
For specific projects or unique requirements, we offer custom design options. From custom heights to oversized doors, keyless lock choices, and automatic door closers for both hinged and slide gates, we can tailor a solution to your exact needs.
Data Center Cage Benefits
Enhanced Security
Our systems are designed to provide robust security, safeguarding valuable data center assets even in shared spaces.
Efficient Ventilation
The wire mesh design of our cages allows for excellent ventilation, preventing overheating of components inside and ensuring optimal performance of your data center equipment.
Adaptability
Easily reconfigure or modify our systems to accommodate changing tenant requirements, reducing the need for extensive and costly renovations.
Versatile Integration
Our cages can be configured to integrate with subfloor structures and extend above drop ceiling grids, ensuring comprehensive security.
Data Center Cage Product Range
Data Center Cage Case Studies
Explore our case studies to gain valuable insights into how SpaceGuard's Data Center solutions have been successfully implemented in various data center and colocation facility environments. Discover how our products have enhanced security, streamlined access control, and optimized operational workflows.
Stay informed and inspired with our collection of informative and engaging blogs, offering valuable insights and expert advice on the latest trends and best practices in implementing Data Center solutions. Delve into our blog articles to stay updated on the evolving landscape of data center security and storage solutions.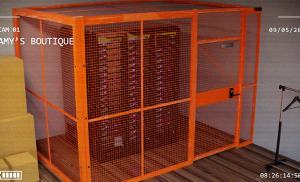 FOR PUBLIC RELEASE Network security starts at the physical level. When it comes to data center protection, the physical security of your servers is just
Read More »
Need more information? Ready to get started?
Contact us today to see how we can help your project be a success!