In the realm of pharmaceuticals, narcotics, and controlled substances, strict compliance with federal regulations is non-negotiable. The secure storage of these items demands precision, security, and a clear adherence to the highest standards of physical storage. There's a common misconception that achieving this level of security requires expensive custom solutions. At SpaceGuard Products, we dispel this notion by providing a robust and cost-effective solution for Drug Enforcement Administration (DEA) and controlled substance storage.
Controlled Substance Storage Cage Features
Our BeastWire™ Mesh partitions are meticulously designed to surpass the strict requirements outlined by the DEA for the secure storage of Schedule III – V controlled substances, as specified in Title 21 CFR Sections 1301.72-1301.76. Key features include:
High-Security Panels
Our panels, built with standard 10-gauge welded wire mesh featuring 2" x 2" openings, exceed DEA specifications. For enhanced internal security needs, we provide various mesh options.
Customizable Sizing
Panels can reach heights of up to 5' and lengths not exceeding 10', complete with reinforcements every sixty inches, aligning precisely with DEA requirements.
Robust Cage Posts
Constructed from 2" x 2", 14-gauge steel tube with welded base plates, our BeastWire™ Universal Posts ensure structural integrity. Extension posts simplify achieving heights exceeding 12', and our proprietary growth plates fill in the standard 2" sweep space below wire mesh panels, guaranteeing security from floor level and eliminating the need for special posts.
Cost-Effective Ceilings
When structural ceilings pose obstructions or become too high for accessible storage, our BeastWire™ Mesh DEA Cage Ceiling Panels offer a cost-effective alternative while maintaining the same rigid and heavy-duty materials as the wall panels.
Secure Doors and Gates
BeastWire™ Mesh DEA Cage Doors meticulously conform to all the stringent requirements of 21 CFR 1301.72(b)(3)(ii). They offer a range of controlled entry options, from hydraulic self-closers to electronic locks. Larger BeastWire™ Mesh slide gates can include a hard-wired automatic gate closer with a chain-less driver track for added convenience. Our slide gates with hydraulic closers are paired with our slide door electric strike, compatible with a 24VDC power supply.
Controlled Substance Storage Cage Benefits
Regulatory Compliance
Achieve full compliance with DEA regulations, ensuring secure storage of controlled substances while adhering to federal guidelines.
Cost-Effective Security
SpaceGuard's BeastWire™ Mesh partitions deliver robust security without the need for expensive custom solutions, allowing you to allocate resources more efficiently.
Secure Access Control
Our doors and gates offer multiple access control options, from hydraulic self-closers to electronic locks, ensuring authorized entry only.
Enhanced Ventilation
The wire mesh design promotes ventilation, preventing overheating of contents inside.
Controlled Substance Storage Cage Product Range
SpaceGuard Products offers two exceptional driver's cage and facility access cage solutions meticulously designed to provide secure access control and enhance safety within warehouses, distribution centers, and loading docks. Our customizable cages can be tailored to your specific requirements, ensuring a perfect fit for your facility's needs.
Controlled Substance Storage Cage Case Studies
Learn how organizations have successfully implemented SpaceGuard's Controlled Substance Storage Cages to achieve regulatory compliance and bolster security. Delve into our insightful case studies.
Controlled Substance Storage Cage Blogs
Stay informed about the latest trends and best practices in Controlled Substance Storage. Explore our informative blog articles for valuable insights and expert advice.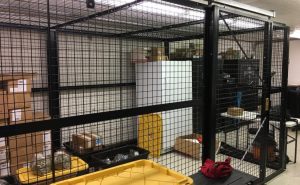 With many states legalizing recreational and medical use marijuana and cannabis, the need to secure their inventory is necessary to meet government compliance. All DEA
Read More »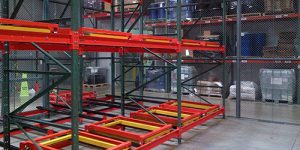 Federal regulations for the storage of controlled substances and narcotics are strict and for a good reason. But, the common misconception is that an expensive
Read More »
Need more information? Ready to get started?
Contact us today to see how we can help your project be a success!