SpaceGuard Finishing Solutions specializes in cutting-edge powder coating services for the fabricated metal products sector, providing flawless finishes on various metal substrates like steel and aluminum.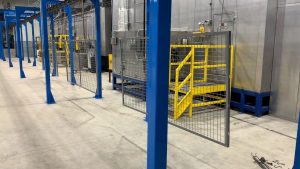 Equipped with a state-of-the-art automated system, our facility can handle metal substrates measuring up to 5′ wide x 2′ high x 216″ long. Our comprehensive powder coating line features a three-stage wash system, an automated booth located in a controlled environmental room, and over 120 linear feet of conveyor travel within our convection oven. With meticulous design that minimizes turns and elevation changes, we prioritize both quality and efficiency, delivering superior finishes in the shortest processing time possible.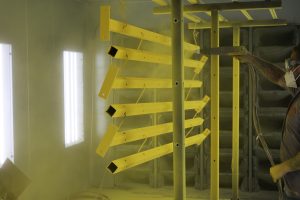 In addition to our automated line, SpaceGuard also offers batch powder coating services tailored to small volumes, large sizes, and unconventional configurations. Our dedicated team focuses on your product, ensuring that thickness and curing requirements meet stringent specifications.
As proud partners of Sherwin Williams, we utilize high-quality powder coatings from their product family and offer color matching services to match any RAL color, ensuring your project aligns perfectly with your vision.
Contact a member of our sales team for more information or to request a free quote today at 812.523.3044 or [email protected].
Need more information? Ready to get started?
Contact us today to see how we can help your project be a success!