SpaceGuard offers secure and organized Tool Crib solutions, providing maintenance personnel with dedicated spaces to store and manage tools and parts effectively. These enclosures play a crucial role in preventing theft, enhancing inventory control, and streamlining maintenance operations across various industries. Our modular design and quick configuration options ensure Tool Cribs fit seamlessly within your facility.
Enhanced Visibility
Our wire mesh panels offer excellent visibility, enabling easy monitoring of tools and parts inside and outside the enclosure, promoting efficient inventory management.
Modular Design
Tool Cribs are designed with a modular approach, ensuring they can be configured to suit your available space without compromising security.
Service Windows
Our Tool Cribs have the option to come with slide-up service windows integrated into the panels, allowing quick access and service without compromising security.
Enhanced Security
Our Tool Crib solutions provide a secure environment for tools and parts, effectively deterring theft and ensuring these assets are readily available when needed.
Inventory Control
These enclosures help maintain strict control over tools and parts, reducing the risk of loss or theft, and ultimately resulting in cost savings.
Operational Efficiency
These enclosures promote organization, ensuring tools and parts are easily accessible, streamlining maintenance and repair tasks, and boosting overall operational efficiency.
Explore our case studies to discover how organizations from various industries have benefited from SpaceGuard's Tool Cribs. Learn how these secure and adaptable enclosures have improved inventory management and enhanced security.
OVERVIEW A local school in Seymour, IN, not too far from the SpaceGuard factory, needed help securing janitorial supplies. They wanted to keep everything in
Read More »
Stay updated on the latest industry trends and best practices in tool and inventory management with our informative blog articles. Gain valuable insights into how our Tool Cribs can optimize your maintenance operations and protect your valuable assets.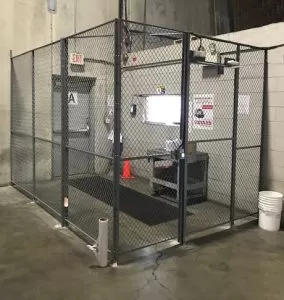 Today's business environment is moving faster than ever. Operational safety and security requirements are constantly evolving and are challenging to sustain. With SpaceGuard Products, you
Read More »
Need more information? Ready to get started?
Contact us today to see how we can help your project be a success!