Vertical Lift Enclosures (VRCs)
Vertical material lifts, also known as Vertical Reciprocating Conveyors (VRCs), have become integral in modern material handling solutions, providing efficient vertical transportation of goods within warehouses, factories, and distribution centers. Ensuring the safety, reliability, and optimal performance of these VRCs is essential for any operation.
SpaceGuard Products is your trusted partner for VRC enclosures and guarding solutions. Our VRC products are designed to not only protect your equipment but also enhance the safety of your workforce. With a diverse range of features and benefits, our VRC enclosures are tailored to meet the unique requirements of your facility.
ANSI Standard Compliance
Our VRC enclosures are meticulously designed and installed to meet the stringent ANSI Standard B20.1, guaranteeing compliance and adherence to industry safety regulations.
Integrated Safety Interlocks
Equipped with integrated safety interlocks, our enclosures provide a foolproof system. These interlocks prevent personnel from opening the gate or gaining access to the lift area during operation or when the platform is not present, enhancing overall safety.
Flexible Design
We understand that material containment is critical during VRC movement. Our flexible design allows the enclosure to extend seamlessly from one level to another, effectively addressing concerns related to materials falling or protruding from the carriage.
Enhanced Safety
Our VRC enclosures prioritize safety above all else. With ANSI Standard compliance and integrated safety interlocks, they ensure that the lift area remains secure during operation, reducing the risk of accidents and injuries.
Compliance Assurance
By choosing our VRC enclosures, you can rest assured that your operation adheres to industry safety guidelines and regulations. This not only enhances safety but also helps avoid costly fines and penalties.
Operational Efficiency
Our flexible enclosure design accommodates material extensions, promoting operational efficiency. It ensures that materials remain contained and protected during the lift's movement, reducing the potential for damage or accidents.
Explore real-world examples of how SpaceGuard Products has partnered with various facilities to implement VRC enclosure solutions, enhancing safety, productivity, and compliance.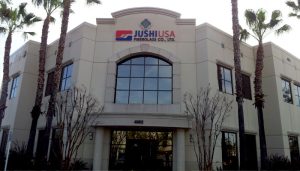 Overview Jushi, one of the largest fiberglass manufacturers in the world, recently opened an 800,000 sq. ft. plant in Columbia, South Carolina—likewise, one of the
Read More »
Stay informed and inspired with our collection of informative and engaging blogs, offering valuable insights and expert advice on the latest trends and best practices in VRC enclosure solutions. Dive into our blog articles to discover how to optimize safety and efficiency in your VRC systems.
Need more information? Ready to get started?
Contact us today to see how we can help your project be a success!