RageWire® machine Guarding Solutions
Robotic Automation Guarding Evolved
Discover the future of robotic guarding with RageWire® Automation Guarding Solutions. Our innovative and cost-effective solution revolutionizes machine safety while conforming to ANSI/RIA standards. Designed with efficiency and simplicity in mind, RageWire® offers a frameless guarding system comprising just five components. Experience advanced protection for your robotic applications while ensuring a streamlined and productive workspace.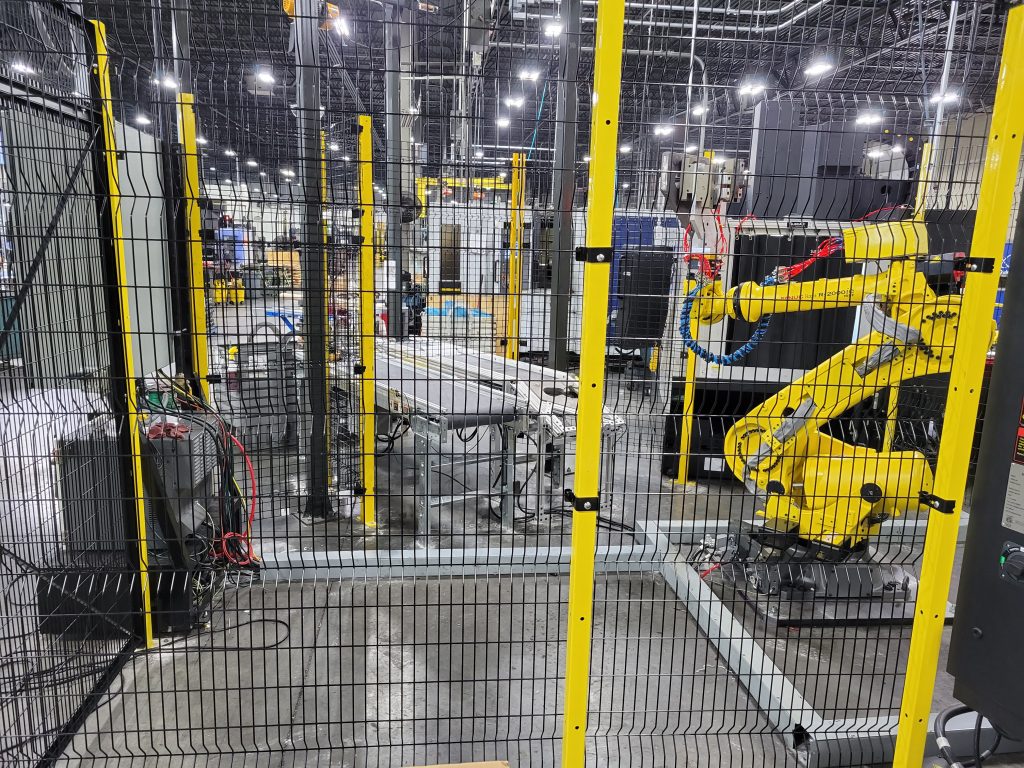 RageWire® machine Guarding system Features
RageWire® keeps it simple with the entire product line consisting of one standard wire mesh panel (5′ wide), universal posts (6′, 7′, 8′ tall), one bracket, two door options, and electric interlock integration.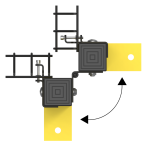 Post
Pivot posts allow for easy management of corners with 160° of rotation.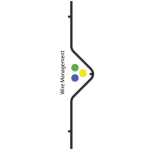 Panel
V-bend in mesh adds structural integrity and allows for wire management.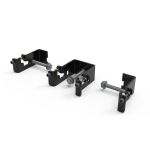 Bracket
Carriage bolt attaches bracket to post and machine screw secures mesh to bracket.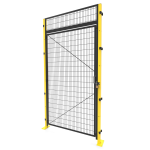 Door
Easy-install swing and slide doors come standard; BeastWire™ doors are available for specialized applications.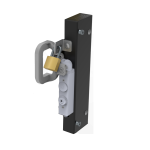 Lock
Standard doors come with pull handle and padlock hasp; Fortress Interlocks (shown) available for added security.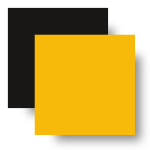 Finish
The standard finish, featuring yellow posts and black panels, serves as a clear visual safety cue.
RageWire® machine Guarding system Benefits
We understand the importance of purchasing a protective guarding cage for your valuable robotic investment. With RageWire® Automation Guarding Solutions, our aim is to simplify this process by providing an approach that is seamless and cost-effective. With our innovations, all you need to do is plant a post and hang a panel, making the machine guarding fencing installation process intuitive and hassle-free.
Rest assured, our RageWire® automation guarding solutions are designed to meet ANSI/RIA standards, giving you peace of mind and ensuring the utmost safety for your robotics.
Strength and Rigidity
V-bend mesh panel design adds strength and rigidity to the system, along with a built-in, recessed cable management cavity
Easy Field Modifications
Unframed machine guarding panels allow for easy field modifications
Quick Panel Lift-Out System
Saddle pocket brackets provide a quick panel lift-out system for machine access and fast panel reengagement
Easy Corner Management
The unique pivot post design allows for easy management of corners with 160° of rotation
Conforms to Industry Standards
1.25" x 4" wire mesh opening conforms to RIA/ANSI Standards allows for a 17.5" distance to hazard
No Disengage Upon Impact
All hardware comes secured to the bracket and will not disengage upon impact
4″ Sweep Space
4″ sweep space for easy cleaning access
Fortress Interlocks
Swing and slide doors incorporate with Fortress interlocks for a secure system
Universal Post Design
A universal post design allows for easy mounting of photo eyes and light curtains
Ragewire® machine guarding system Resources & Downloads
RageWire® machine guarding Videos
RageWire® wire mesh machine Guarding Applications
Ragewire® machine guarding

Case Studies
Unlock the potential of RageWire® Automation Guarding panels with our collection of impactful case studies, showcasing real-world applications and the proven effectiveness of our innovative solutions.
RageWire® wire mesh machine Guarding Blogs
Explore our informative and insightful blogs, dedicated to showcasing the latest trends, best practices, and industry insights related to RageWire® Automation Guarding, empowering you with valuable knowledge for a safer and more efficient manufacturing environment.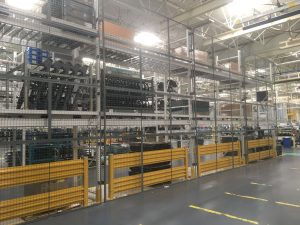 Machine guarding is necessary for any business that utilizes machinery with moving parts, such as manufacturing facilities, industrial plants, warehouses, construction sites, and any other
Read More »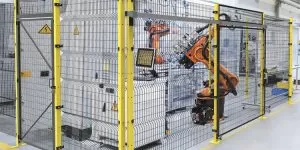 SpaceGuard Products knows the importance of machine guarding to businesses large and small. In this blog, we will explore the importance of machine guarding and
Read More »
Still not sure which guarding system is right for you?